Introduction:
Europe bull student use stationery tape size:15mm*20m*45mic color:crystal, clear, yellowish Europe bull student use stationery tape offer free samples for you test. packaging way: 1roll with a dispenser, then 5 roll with blister bag
Detail Intruduction:
Euro
pe bull student use stationery tape
size: 15mm*20m*45mic
color: crystal, clear,yellowish, black.
packaging way: 1roll into a hang bag, 75roll into a tube. 4 tube into a carton.
Material: bopp film with acrystal adhesive tape
Advantage: cystal, easy tear, super clear
The detial picture as below: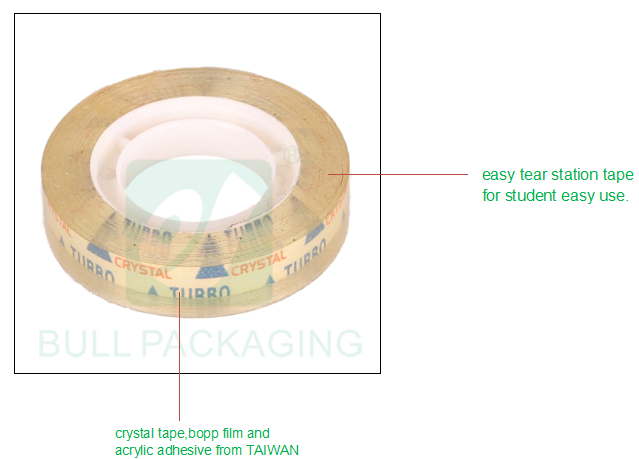 Europe bull student use stationery tape
difference packaging,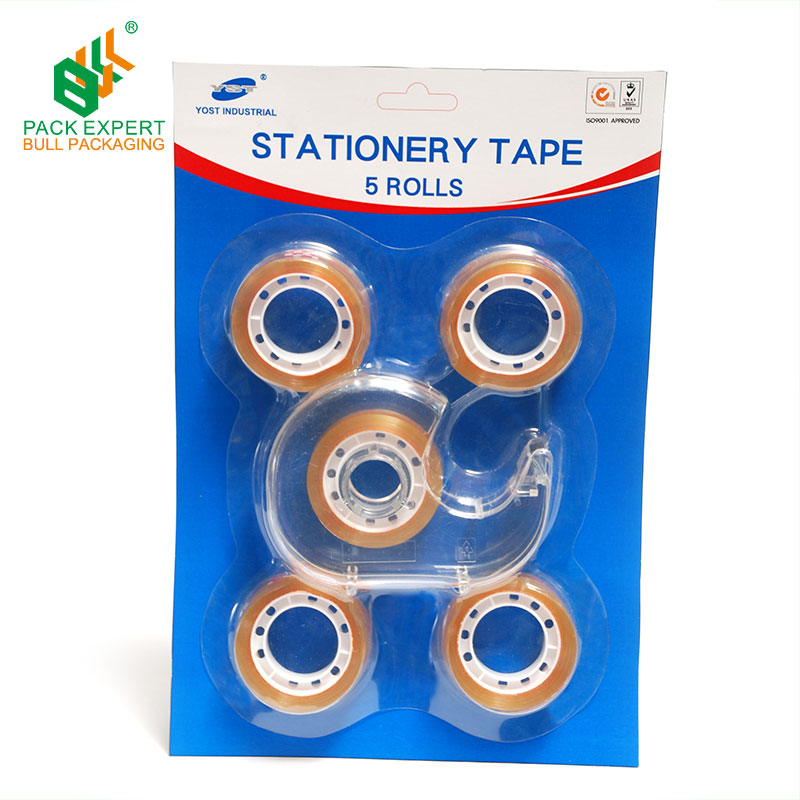 What advantage of our company?
1) our stretch film material LLDPE is import from XOM.
2) our bopp packaging tape material is bopp film with acrylic adhesive and import from Taiwan.
3) we can do super thin stretch film. pre-stretch film. special film. super clear tape, crystal tape, no bubble tape, low noise tape, easy tear tape. slient tape.
4) we can offer print of paper core and carton mask.
5) we have designer for customer design packaging ways or new artwork.
What exhibition we were enjoy?
Canton fair, paper world fair, Duibai fair, Frankfurt fair, we will invite you if we have exhibition.
the canton fair picture as below:

What can I do for you?
1, our designer will make carton and card design for you as your requirement, then send to you confirm the new design.
2, we will add all item picture in the PI for avoid mistake of this order.
3, We will update for you once we start your order,
4,we can offer printing paper core and shipping mark for you as your requirements.
5, we will booking the vessel for you when will finished the goods before.
6, we will inform you that detail ship date once we get the information.
7, we ill update the vessel information for you.
8, we will send original document to you once we get your payment.,
What Kind of production we have?
Our company production including bopp packaging tape, bopp stationery tape, LLDPE stretch film. Hand use stretch film. Machine use stretch film. Colorful stretch film. Special stretch film. Pre-stretch film tape, super thin stretch film. Masking tape, double sided tape. Double sidefoam tape, warning tape, PVC insulation tape, Aluminium foil tape. Kraft tape, reinforced Gummedkraft paper tape. Gummed kraft paper tape. Invisible tape,PVClane marking tape
.
Our factory have 23 years history for produce bopp film and stretch film. The tape material is bop film with acrylic adehsive and import from TAIWAN. The film material is LLDPE and import from XOM.
We can offer printing the paper core and shipping mark as your requirements.
Have many packaging way for you. 1roll with a dispenser blister, 8roll shrinking a tower, 6 rolls shrinking a flat.
If you are interested in our productions, please don't hesitate contact with us.
Please let me know if you have any questions,
We hope that our productions can bring convenience and smile to you.
Welcome to visit our factory.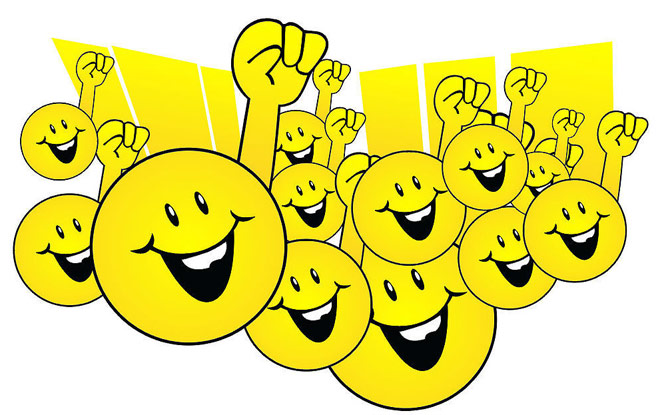 粤公网安备 44030702000988号